Post by on Apr 8, 2005 22:07:19 GMT -5
It happens all the time. A studio will produce a movie the first time and everything will be in perfect alignment. The actors have chemistry, the story is well documented, the visuals are an outstanding feast of the eyes. Everything simply, clicks! Then studio executives looking for the next quick cash in rush a sequel and release with an entirely different formula than the first. The result, a movie that completely blows. So, what are your views on the worst sequels ever produced, and why? This thread is here for that sole purpose.


Just to get things rolling I'll list my top 5 of movies whose original I loved but sequel I loathed:

5. Matrix: Revolutions
What the hell happened here? The first two Matrixes were fantastic, but the third and final chapter was a complete waste of my time. This movie was such a letdown that I actually wanted to cry I was snaked out of 8 bucks. Somewhere during the production of the script for this one it became obvious the Walchowski (sp?) Brothers didn't know how to end the trilogy. While the acting was good, the convoluted story and complete babble of the architect in the end gave me a week long migraine. One of the worst sequels ever made for me.
4.
Rocky V
[/i]
How the series actually got up to a 5, and supposedly a 6 on the way is beyond me. But if one was to ask me on the future of the Rocky series, I'd say 5 dealt it the knockout blow. I was admittedly duped into watching a movie that perpetually had no real, actual Rocky fighting, and instead some nobody named Tommy Gun in the spotlight as well as a horrible sappy story about Rocky becoming some sort of family man. Let me tell ya, by the end of the movie, Rocky wasn't the only one crying " Cut me Mick"!
3.
Ace Ventura: When Nature Calls
[/i]
SMOKINNNN, Jim Carrey's famous line from The Mask describes exactly what he must have been doing when he starred in this. While the orginal was a pretty entertaining movie, the sequel was an ultimate letdown. This movie is one of those that fail by default due to the horrible concept. Carrey goes to Africa in order to search for a rare bat in order to do...you know what? I don't even remember, nor do I want to. This movie in my opinion left the biggest scar on Carrey's career. In order to cover this one up he would need to have the powers of...God...
2.
Star Wars Episode I: The Phantom Menace
[/i]
WHAT! FOUL PLAY! Yeah, alot of Star Wars fanatics may and have disagreed with me on this one, it's even led to my fair share of lightsaber duels. However, I'm a Star Wars fan myself...and I'm not afraid to say this movie absolutely sucks! The concept of creating movies prior to the original, and showing how the legendary Darth Vader came to be is awesome. However, witnessing the awesome Vader as a snot-nosed, whiny toddler is not. While the movie had some awesome scenes (Ray Park stole the show) the movie had to many other nuisances that hindered it. I'm mainly talking about the cast. The actors chosen for Ep. I, was quite possibly the worst assembly of non-compatible actors ever assembled. It was more as if George Lucas was making a movie called
The League of Unextroardinary Gentlemen
. Also the movie had Jar-Jar Binks an intergalatic Aunt Jemima, do I even need to say more? It's pretty sad when the force can't even make your movies not suck. While the sequel was somewhat improved, I must say Episode III looks really, really good. Here's to hoping the force is strong in that one.
1
Batman and Robin
[/i]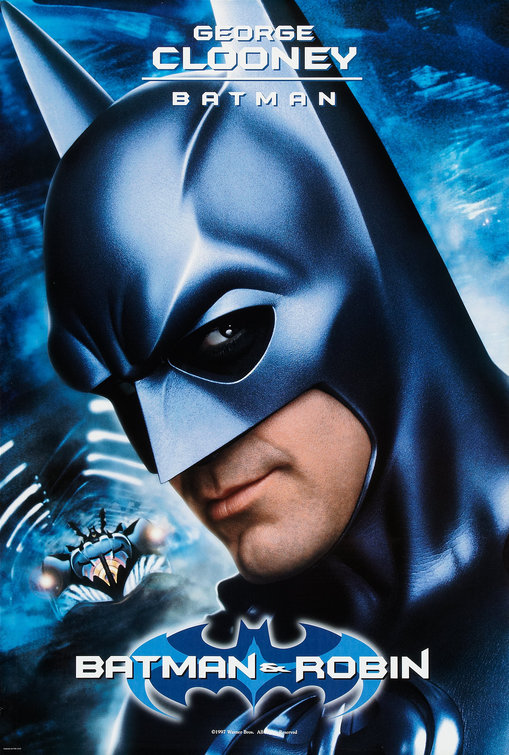 HOLY COW BATMAN! Your 4th movie sucked! . In my opinion the greatest villain in this movie is George Clooney. Why? Because he successfully killed Batman. After years of surviving from battles against the Joker, Killer Croc, Mr. Freeze, The Penguin and countless others. Batman finally fell prey to a middle-age, rugged looking celebrity who clearly knew nothing about the way Batman is supposed to be portrayed. Yes, this is my pick for worst sequel ever created. The horrible acting, plot, effects, and not to mention leather nipples and close up butt-shots of George Clooney, totally killed this movie for me and just about every other Batman fan. This movie was a huge disappointment not just for the fans though, also obviously to the actors. Almost a year after that movie was made they all retreated to independent films for a short period of time. Most likely as a penance given to them after confessions. I'm sure not even the priest could easily forgive Clooney for that disaster. However, with Batman Begins looking better and better by the moment. I'm becoming convinced Christian Bale is what this franchise needs. I'll keep my fingers crossed.
So that's just a few of my picks of worst sequels ever, I had a good laugh at recollecting some of this stuff. I can't belive the movies were that bad. So what are some of your picks for worst sequels ever created?